A few weeks ago, Stephanie posted her at Adventures of a Bibliophile posted her personal cannon of books which have impacted her throughout her life, and invited readers to do the same. Stephanie, I'm so sorry I took so long to do this! Here is my personal cannon:
The Boxcar Children by Gertrude Chandler Warner
This was the series that got me into reading. I was in second grade, and at the time, I couldn't stand reading, and so I read Clifford books at school just to be able to tell my parents I was reading something. Well, they soon found out what I was doing, and asked the librarian to make sure I only checked out books that were at my reading level. I had no idea what to read- until my physical therapist suggested The Boxcar Children. I immediately fell in love with Henry, Jessie, Violet, and Benny Alden, and thus my love affair with reading began. I read every book in this series that I could get my hands on, and got to the point to where I could read two in a day.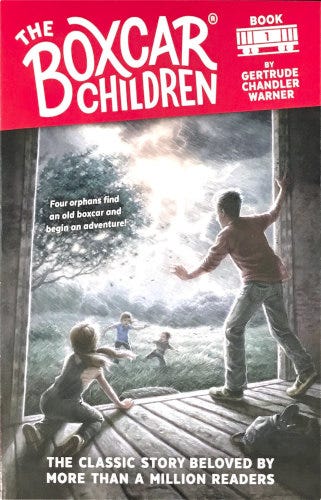 2. The Trixie Belden series by Kathryn Kenny
Another mystery series. These books are about thirteen-year-old Trixie Belden, who calls small town Sleepyside, New York home. When Honey Wheeler moves in to the mansion next door, the two become fast friends, and this series chronicles their adventures and the mysteries they solve along the way. I loved the elements of family and friendship that are present throughout the novels, and some of the first stories I wrote were about Trixie and her friends. I would create a new adventure for them, throw myself in as a character (because why not?), and let my imagination run wild. That helped foster my love of writing as well, and for that, those books will always hold a special place in my heart.
3. Little Women by Louisa May Alcott
What girl doesn't love Little Women? My grandmother bought a condensed version of the book for me when I was in fifth grade, and upon devouring it, I fell in love and had to know the rest of the story. I loved the dynamics between the characters, and I liked how different each girl was. I found a film adaptation on Netflix not long after I read it, and I must have watched it at least twenty times.
4. The Truth About Forever and Along for the Ride by Sarah Dessen
Yes, I know technically I listed two books, but I love them both equally and I couldn't decide which one to choose, so I put both. I was introduced to Sarah Dessen the summer after sixth grade, when my literature teacher gave me a basket of books from her bookshelf and told me to read whichever ones I wanted and bring them back to her at the beginning of the next school year. Lock and Key was the first Dessen book I read, and I went on to read all of her books after that. At the time I read each of the two books above, I felt a connection with their main characters that I'd never felt before. Dessen made me feel understood and as if I wasn't alone, and I knew I wanted to craft stories that did the same thing for other girls. I want to write books which make readers laugh, cry, smile, feel comforted, and know that they're not the only ones who have gone through what they're going through. Dessen played a major role in helping me figure out who I want to be as an author, and I hope one day I can meet her and thank her for that.
5. Dear John by Nicholas Sparks
Another gift from my grandmother. She gave it to me when I spent the night at her house and had forgotten to bring a book, and I loved it, although the ending drives me crazy. I recently reread it, and I'll put a review up soon!
6. Hush, Hush by Becca Fitzpatrick (and every Becca Fitzpatrick novel)
A friend recommended this series to me, and I knew it was good if she was recommending it, because she is not a reader. I was hooked by page two. Not only does it have realistic dialogue and a plot that unfurls at breakneck speed, but I've never read a book that combines fantasy, romance, and thriller in a way that seems effortless. Becca Fitzpatrick is brilliant, and I loved the Hush, Hush saga so much that I bought her two latest books without knowing anything about them. It was not a bad decision. Black Ice and Dangerous Lies were just as incredible as the Hush, Hush saga was. I highly recommend all of her books!
7. In Cold Blood by Truman Capote
I had to read this for AP Language last year, and it was one of my favorite books that we read all year. It's a nonfiction novel about the murders of the Clutter family in 1959 Holcomb, Kansas. I loved Capote's style- he painted a picture in your head and somehow had you rooting for the two killers despite the fact that they killed four people in cold blood (I had to). Fun fact: Harper Lee assisted him with the research for the novel.
8. Shaken by Tim Tebow
Totally opposite end of the spectrum from In Cold Blood, but it's one of my favorite books. It's special to me because Timmy- Yes, I know him and yes, I call him Timmy- shared my story in Chapter 7, and it features stories of friends of mine that I love dearly. There were pieces of the book where I could hear him reading it to me- that's how authentic his voice is. I couldn't be more honored that he chose to write about my W15H and about the time we've spent together, and I couldn't be more proud of the success the book has had. It's a great read, one that will make you laugh, cry, and realize that you, too can make a difference in the lives of others.
That's my personal cannon! Stephanie, thank you so much for the post inspiration! Now, I have a question: What books make up yours?